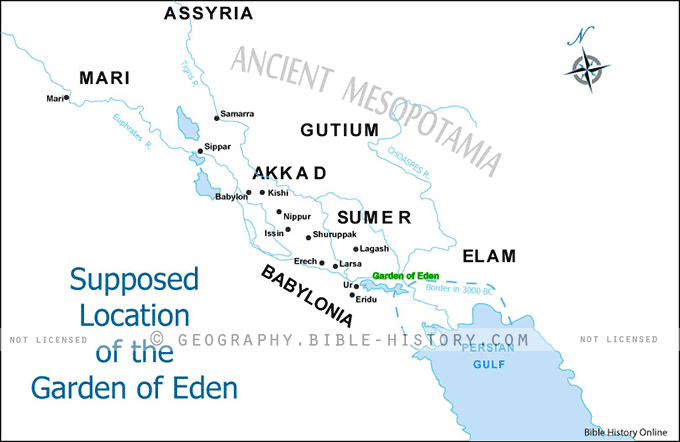 The Map of the Supposed Location of the Garden of Eden is a fascinating exploration of one of the most enduring mysteries in human history—the legendary paradise where, according to the Bible, humanity's story began. This meticulously crafted map offers an engaging journey back in time, seeking to unveil the hypothetical location of this mythical garden.
As you study the map, you'll discover a landscape of lush rivers, verdant valleys, and abundant flora, depicted in stunning detail. It offers various hypotheses and interpretations about where the Garden of Eden might have been situated, taking into account historical texts, ancient cartography, and geographical features mentioned in the Bible.
Throughout the map, you'll encounter annotations and notes that provide insight into the diverse theories and interpretations surrounding the Garden of Eden's possible location. It invites you to ponder the rivers that flowed from it, including the Tigris and Euphrates, and the potential proximity to known historical sites.
This map serves as a valuable resource for scholars, theologians, historians, and enthusiasts alike, fostering a deeper understanding of the cultural and religious significance of the Garden of Eden in various traditions. It offers a thought-provoking exploration of the human fascination with this biblical concept and its enduring presence in art, literature, and theology.
Whether you approach it with scientific curiosity, religious reverence, or a simple love of exploration, the Map of the Supposed Location of the Garden of Eden invites you to embark on a journey of discovery, bridging the gap between myth and reality as you seek to uncover the secrets of this ancient, enigmatic paradise.